Meeting Report
---
Monday, 24 September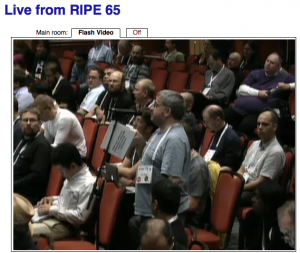 RIPE 65 Opening Plenary
The first session of RIPE 65 was kicked off by Rob Blokzijl, RIPE Chair, who welcomed the attendees to the meeting. He noted that 65 is usually the age at which people retire and that it was a nice coincidence that we had just witnessed the "retirement" of IPv4 in the RIPE NCC service region. The session continued with Ivan Pepelnjak, NIL Data Communications, giving a presentation on "OpenFlow and SDN: Hype, Useful Tools or Panacea?". This insightful presentation generated some discussion and had the audience laughing out loud several times. Geoff Huston, APNIC, gave a typically forthright presentation on the problems with Quality of Service, a concept that has received a lot of attention in recent Internet governance discussions. Sage advice like "friends don't let friends build layer-2 networks" kept the room engaged with an issue that crosses technology, politics and economics.
Afternoon Plenary Sessions
The second plenary session on Monday had two very interesting presentations that drew plenty of comments and questions. First up was Thomas Steen Rasmussen who presented "censurfridns: Technical and Political Aspects of Uncensored DNS servers". Mark Townsley from Cisco then presented on "Mapping IPv4 Address and Port over IPv6". The presentations were followed by three lighting talks, including some interesting results from RIPE Atlas, an invitation to the ICANN GNSO ISPCP from Alain Bidron and a talk on enabling inter-domain path diversity from Xavier Misseri of TELECOM ParisTech.
Monday's Birds of a Feather (BoF) Sessions
Two BoFs were held on Monday evening. The "Open-Source Roundtable (Quagga and Bird)" BoF was a busy interactive session on open-source software in the community. The "RIPEstat Demo – s2e06" BoF was held in parallel. This live demonstration revealed new features and reported on ongoing development. The session was well attended and was a great opportunity for users to share feedback directly with the developers and learn more about RIPEstat.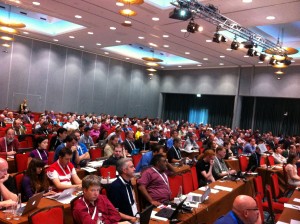 Monday Morning Tutorials
Three tutorials were held on Monday morning before the RIPE Meeting began. The "Scaling MPLS – Seamlessly" tutorial was given by Christian Martin, Juniper Networks and the "Extending the Range of 100Gbit/s Links" tutorial was given by Arien Vijn, AMS-IX. Sandra Brás, RIPE NCC, ran a session for people interested in improving their presentation slides and presentation skills.
All three sessions were well attended.
Monday's Social: Welcome Event
The Welcome Event took place at the Okura Hotel and enabled attendees to meet new colleagues, catch up with old friends, enjoy drinks and snacks, and compare their badge sticker collections.
---
Tuesday, 25 September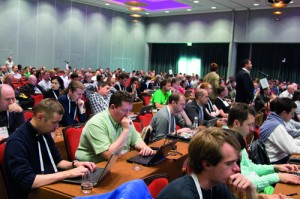 Morning Plenary Sessions
Tuesday's full day of plenary sessions began with an IPv6-themed set of talks, starting with an acronym-packed presentation by Paul Ebersman, Infoblox, on "SLAACer or Prisoner of State", invoking several comments. Stefan Plug, AMS-IX, talked about RFC 5549, which deals with advertising IPv4 network layer reachability information with an IPv6 next hop, and Rick van Rein, OpenFortress, presented on "IPv6 for the Masses — with 6bed4".
The day's second session featured presentations on "Google Backbone Monitoring, Localizing Packet Loss in a Large Complex Network" by Jen Linkova, Google, and on the working practice of the NLNOG Ring and its use in network debugging by Job Snijders. The session concluded with lightning talks on the impact of World IPv6 Launch on IPv6 deployment by Lorenzo Colitti, Google, and the current state of DNSSEC validation at a global scale by Geoff Huston, APNIC. Todd Underwood, Google, also gave a talk on the RIPE plenary programme.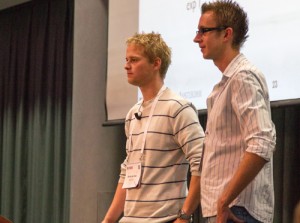 Afternoon Plenary Sessions
The first session after lunch kicked off with a presentation on "RPKI Propagation" from RIPE Meeting stalwart Randy Bush, IIJ, examining the progress made with Internet resource certification. From there, the focus shifted to contributions from some of our youngest community members. David Lebrun of the University of Louvain presented "Correlating Routing Configuration Changes with Forwarding Changes", while Maikel de Boer and Jeffrey Bosma followed with their study on "Discovering Path MTU Black Holes on the Internet Using RIPE Atlas", which inspired some varied discussion at the end of the session. The final session of the plenary was devoted to a panel on Internet governance and the ITU World Conference on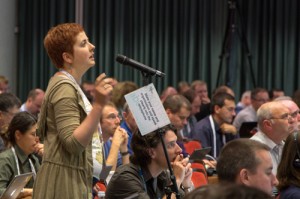 International Telecommunications (WCIT). Chaired by Patrik Fältström, co-Chair of the RIPE Cooperation Working Group, the panel included Mike Blanche of Google, Cathy Handley of ARIN, Christine Runnegar of ISOC, and Gordon Lennox, a former official of the European Commission. The session provided an opportunity for attendees to learn more about the WCIT process and the importance of the International Telecommunication Regulations (ITRs) that will be negotiated at the WCIT.
Tuesday's Birds of a Feather (BoF) Sessions
Meeting attendees at the "RIPE Atlas User-Defined Measurements (UDM) and RIPE Atlas Anchors Bash" on Tuesday evening were treated to "extra strong" Atlas beer, RIPE Atlas Anchor tattoos and details about RIPE Atlas Anchors. This interactive session brought RIPE Atlas UDM users and beta-testers together with the developers to discuss developments, exchange ideas and best practices and give feedback. The RIPE NCC Executive Board also held an informal BoF session on Tuesday evening enabling RIPE NCC members and other RIPE 65 attendees to meet the Board members and to discuss the organisation and its services.
Tuesday's Social: AMS-IX Party at the Heineken Experience
Attendees braved the wind and rain and made their way over to the Heineken Experience for a great AMS-IX party filled with drinks (including sponsored cocktails), snacks, dancing…and of course, Heineken.
---
Wednesday, 26 September
EIX Working Group Sessions
The day's sessions in the main room began with the EIX Working Group. The sessions were well attended and many of the presenters prompted interesting discussion among the audience. Marc Gauw from NL-ix shared his "Overview of the local peering scene" and also presented "The sense of distributed Internet exchanges." Kurtis Lindqvist, netnod, presented 76 slides in 20 minutes (including questions!) with "Analysis of Query SRC and Anycast locations". Mirjam Kuehne, RIPE NCC, shared a glimpse into interesting measurements collected during the European Football Championship and the 2012 Olympics in her presentation "IXP Traffic During Major Sporting Events". Maksym Tulyuk then shared some World IPv6 Launch facts and figures in his presentation "AMS-IX IPv6 Day Before & After". Cara Mascini, AMS-IX, then shared some thought-provoking wisdom on the "AMS-IX collaborative model". After the coffee break, the EIX Working Group session continued with an "IXP Wish List Status Update" from Harald Michl, UniVie/ACOnet/VIX, a "Euro-IX Update" from Bijal Sanghani, Euro-IX, and a "Bird Update" by Ondrej Filip from CZ.nix. Toshinori Ishii, NTT Communications, presented "Content caching/CDN sharing for small ISPs at IXPs", followed by LinkedIn's Zaid Ali presenting the pros and cons of remote peering. The session finished off with a presentation from first-time attendee Puseletso Putsoane from Vodacom Lesotho on "Lesotho Internet Exchange Point" and 30-second IX updates from LINX, NYIIX, STHIX, AMS-IX, CIXP, netnod, NIX.CZ, and TOR-IX.
Database Working Group Session
The Database Working Group met on Wednesday morning, beginning with an update from the RIPE NCC on the current status and future plans for the RIPE Database. It then moved quickly to discussion of new database features including "History View" and GeoLoc data, and an update from Olaf Kolkman, NLnet Labs, on the WEIRDS work being done in the IETF.
DNS Working Group Sessions
The first DNS Working Group session began with software reports by Sara Dickinson, Sinodun Internet Technologies Ltd, on OpenDNSSEC and Shane Kerr, ISC, on DNS Benchmarking Effort. Romeo Zwart, RIPE NCC, presented on the RIPE NCC's DNS activity, k-root operational updates, statistics and lessons learned from the RIPE NCC's recent reverse DNS outage. Many attendees came to the microphones with comments and new ideas for technical improvements. Up next was APNIC's Geoff Huston with "Measuring DNSSEC", which, as expected from Geoff, prompted lively feedback from many in the audience. The session finished with a panel discussion, "Overcoming the 'First Mover Loses' Paradigm for IPv6 DNSSEC Deployment".
The second session started with a presentation from Marek Vavrusa, Knot DNS, about an open-source, authoritative-only DNS server and a remote control utility they built. Olaf Kolkman, NLnet Labs, presented about the IETF WEIRDs Working Group and RESTful WHOIS. Romeo Zwart, RIPE NCC, presented on the future of DNSMON, noting that one of the big changes is that it will become a service available for RIPE NCC members only. Roland Van Rijswijk, SURFnet, presented about fragmentation in EDNS0 and proposed recommendations about handling this. Roland referred to the differences between BIND and Unbound and how Unbound's method was more effective in getting a response faster for the user. The session ended with a panel, moderated by Peter Koch, DNS Working Group co-Chair, discussing DNS amplification attacks. The panel consisted of Olaf Kolkman from NLnet Labs, Paul Vixie from ARIN's Board of Trustees, Andrew Sullivan from Dyn, Inc., and Xander Janse from SURFnet.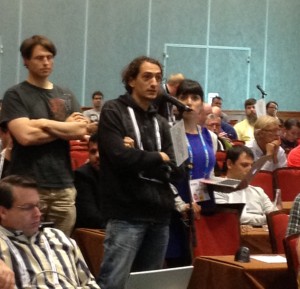 IPv6 Working Group – Session I
The first IPv6 session began with Liviu Pislaru from RCS & RDS Romania who presented on their project to offer dual-stack IPv6 support to more than 1 million residential customers. The response from the room was very positive, with Gert Doering, IPv6 Working Group co-Chair, thanking Liviu for showing the world that this can be done. The next presentation was from OTE's Yannis Nikolopoulos, outlining the different issues that they faced during the IPv6 World Launch, the steps they took to solve them and what they learned from the experiences. Anastasios Chatzithomaoglou from Forthnet was up next, talking about the deployment of IPv6 dual-stack, also including the latest tests on DS-Lite and radius-based semi-dynamic IPv6 assignment. Marco Hogewoning from the RIPE NCC gave an update on the IPv6 CPE Survey 2012. They went back to the original idea to ask all vendors where they are now with IPv6 support in their different CPEs and displayed the results on a new and improved website. Finally, Emile Aben from the RIPE NCC gave a report on IPv6 RIPEness and measuring IPv6 in a production environment from different Local Internet Registries (LIRs).
RIPE NCC Services Working Group
The RIPE NCC Services Working Group included updates from the Arbiters Panel and the RIPE NCC. There was discussion about the RIPE NCC's member-only services and the extent to which certain services should be offered only to RIPE NCC members. There was also discussion about the status of PI End Users and legacy address space holders and whether they should become RIPE NCC members. The RIPE NCC also gave presentations on the IP Analyser Tool and the final distribution of IPv4 address space. Niall O'Reilly, University College Dublin, gave a detailed presentation on "Proposed Policy for RIPE NCC Services to Legacy Internet Resource Holders ". Nick Hilliard, INEX, gave a presentation on sponsoring LIR data.
NL-ix Late Summer Drinks 2012
Attendees flocked to Amsterdam's urban beach "Strand Zuid" for a festive evening of drinks following a busy day at RIPE 65. Thanks to NL-ix for hosting a fun social!?
---
Thursday, 27 September 2012
Thursday morning's IPv6 session began with Eric Vyncke, Cisco, with an overview of mitigation techniques to solve Layer 2 issues. Merike Kaeo, Double Shot Security, followed and asked operators for feedback on a BCP document about this topic. Ondrej Filip, CZ.NIC, showed KATR, a review catalogue of small routers which, amongst other features, also lists IPv6 support. Tom Taylor, PT Taylor Consulting, asked if any operators need IPv4 to IPv6 multicast translation or transition techniques. The response from the room indicated that this is not something people need. Andy Davidson, LONAP, sparked a lot of discussion listing the different transition techniques and drew the conclusion that, "we get the Internet we deserve". Finally, Maarten Botterman, GNKS Consult, revealed the results of the Global IPv6 Survey which was conducted on behalf of the Number Resource Organization (NRO) and concluded that IPv6 is finally becoming reality.
RIPE NCC Policy Development Officer Emilio Madaio reviewed the current open policies. He was followed by Alex le Heux, RIPE NCC, who shared feedback from the RIPE NCC's Registration Services Department and asked whether they should consolidate existing IPv4 policies following the run out of IPv4 addresses. After discussion, it was concluded that the idea had general support from the room. Sandra Brown, IPv4 Market Group, presented policy proposals for inter- and intra-RIR transfer policies. Discussion ensued, no major objections were expressed, and Gert asked that it be taken to the Address Policy Working Group mailing list for further discussion. More updates on policy proposals were on the agenda, including IPv6 PA/PI unification policy (proposal not finished yet) and the consequences of 2011-02 IPv6 PI growth. In the Open-Policy Hour, Nick Hilliard from INEX presented the Temporary PI Assignments proposal and Alexy Ivanov from LeaderTelecom presented a proposal for IPv4 sub-allocations.
The second session continued after the break with a remote presentation via Skype from Tore Anderson, Redpill Linpro, who presented proposal 2012-06 "Revert 'Run Out Fairly' after IPv4 Depletion". The proposal is in the discussion phase and Gert Doering, Address Policy Working Group co-Chair, felt there was a general sentiment for the proposal to become a policy. Nick Hilliard was at the lectern again, this time presenting 2012-04 "PI Assignments from the Last /8". A long discussion ensued and Gert summed up opinions in the room by saying that there is a problem but this proposal wasn't the solution and encouraged another version of the proposal drafted. The session concluded with another remote presentation via Skype, this time from Milton Mueller who shared his thoughts on 2012-05 "Transparency in Address Block Transfers".
The session began with Joao Damas, Routing Working Group co-Chair, announcing that the Route Flap Damping document is now in the last call phase. Ivan Pepelnjak, NIL Data Communications, gave a presentation on BGP Security Best Practices, which resulted in a lot of discussion among many of the IXPs in the room. Emile Aben, RIPE NCC, then presented "A Case Study of IPv6 /48 Filtering". Martin Winter, ISC/OpenSourceRouting.org, and Ondrej Filip, CZ.NIC, summarised the Open Source Routing BoF that was held earlier in the week. They asked the room for feedback on their idea for proposing an Open Source Routing Working Group. This will be discussed further in the Closing Plenary on Friday. Nick Hilliard presented "Remotely Triggered Black Holes" and Vasco Asturiano, RIPE NCC, talked about "Using RIPEstat for Prefix Size Filtering". Finally, Andrei Robachevsky, ISOC, asked for feedback on ISOC's routing security survey.
The session started with a presentation from But Klaasen from the Ministry of Security and Justice of the Netherlands on the "Clean IT Project", the goal of which is to reduce the impact of the terrorist use of the Internet. But's presentation prompted a heated debate among attendees in the room and also those participating remotely. Many asked for clarification on defining "terrorism". Athina Fragkouli, RIPE NCC, presented "RIPE NCC Data Protection Legal Advice Update". Up next was Christian Teuschel, RIPE NCC, with an update on RIPEStat, more specifically on finding anti-abuse information using the tool. Ingrid Wijte, RIPE NCC, then gave a quick update on "Re-allocation of Address Blocks". The session finished with a presentation from Peter Forsman, .SE – The Internet Infrastructure Foundation, on the growth of counterfeit websites.
A significant part of the agenda was devoted to further discussion of the ITU WCIT process. This included a presentation from Anders Jönsson, former Chair of the CEPT Com-ITU, Europe's regional ITU coordination group, looking at the preparations taking place in the regional context, in Europe and elsewhere. Discussion in the room focused on nailing down specific issues and how to effectively contribute to the WCIT process. Andrei Robachevsky, ISOC, also presented on the OpenStand initiative and the session concluded with an overview of preparations for Internet Governance Forum events, both global and regional.
The MAT Working Group kicked off with a presentation by Martin Levy, Hurricane Electric, called "Intercountry BGP As Topology". The discussion that followed showed that it was clear that there is a continued interest in geographic data for ASNs in the RIPE Database. This will possibly be on the agenda for next RIPE Database Working Group session. Vesna Manojlovic, RIPE NCC, gave several presentations, including: RIPEstat, RIPE Atlas Roadmap, RIPE Atlas Anchors and RIPE Atlas measurement methodologies. Feedback from the room indicated that both researchers and operators are interested in RIPE Atlas measurement results and suggested that the RIPE NCC develop more tools based on that.
The ENUM Working Group had a lively session with two main presentations that drew good interaction from attendees. Rick van Rein, OpenFortress, outlined the case for "Making ENUM useful before it establishes critical mass". This was followed by Mihály Mészáros, who presented remotely from Budapest on new developments and successes with NRENum.net. Anand Buddhdev gave an update from the RIPE NCC. Working group co-Chair Niall O'Reilly also asked for contributions to enumdata.org, which seeks to build a collection that describes the various ENUM projects being conducted around the world.
---
Friday, 28 September
Friday morning's plenary opened with reports from the RIRs, the NRO Secretariat and ICANN/IANA. Discussion included various RIRs' experiences working with international sanctions and the ongoing investigation of an RPKI global trust anchor. The session also gave attendees the chance to vote for openings on the NRO Number Council (NC) and the RIPE Programme Committee (PC).
The Closing Plenary began with a presentation on the ChokePoint Project by Ruben Bloemgarten. Congratulations were offered to Dmitry Kohmanyuk, who was elected as the RIPE representative to the NRO Number Council. Two lightning talks followed, with Iljitsch van Beijnum talking about "A new Origin Preference Attribute for BGP traffic engineering" and Anto Veldre giving a unique presentation on 'Internet Freedoms vs Clean-IT'.
Axel Pawlik and Randy Bush then stepped up to the podium to give some clarifications on the PI space debate and asked the community to become more active in helping to solve the issue. The results of the RIPE PC elections were announced: Will Hargrave, Elisa Jasinska, Shane Kerr, Benno Overeinder and Job Snijders were elected to the PC. Sander Steffann, who is stepping down from the PC, received a round of applause for his work in setting it up. Rob Blokzijl, RIPE Chair, also thanked the PC for all its work so far. Martin Winters introduced a proposal for a new RIPE Working Group (WG) – the Open Source WG. Rob Blokzijl explained the process for creation of a new WG and told the room that a mailing list will be set up and comments and feedback will be gathered. At RIPE 66, a BoF will be held early in the week and then, in the Closing Plenary, the community will be asked if there is consensus for the WG to be created. Brian Nisbet gave an update on the work of a Task Force set up to review the procedures around the appointment and removal of RIPE WG Chairs. He noted that a document has been drafted and is now under discussion by the WG Chairs. The document will be made public before RIPE 66. Razvan C. Oprea, RIPE NCC Technical Crew, gave the RIPE 65 Technical Report.
The Closing Plenary ended on a surprise note with a marriage proposal – congratulations to Sascha Pollok and Luisa Villa.
Until Next Time
RIPE 65 was another record breaking meeting with 468 attendees, 58 more than RIPE 64! See you all at RIPE 66, 13-17 May, 2013, in Dublin.