Daily Meeting Report
Attendees checked in so far: 278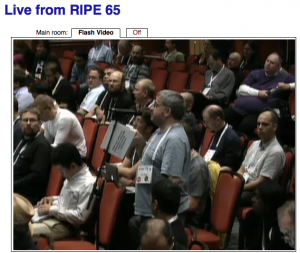 RIPE 65 Opening Plenary
The first session of RIPE 65 was kicked off by Rob Blokzijl, RIPE Chair, who welcomed the attendees to the meeting. He noted that 65 is usually the age at which people retire and that it was a nice coincidence that we had just witnessed the "retirement" of IPv4 in the RIPE NCC service region. The session continued with Ivan Pepelnjak, NIL Data Communications, giving a presentation on "OpenFlow and SDN: Hype, Useful Tools or Panacea?". This insightful presentation generated some discussion and had the audience laughing out loud several times. Geoff Huston, APNIC, gave a typically forthright presentation on the problems with Quality of Service, a concept that has received a lot of attention in recent Internet governance discussions. Sage advice like "friends don't let friends build layer-2 networks" kept the room engaged with an issue that crosses technology, politics and economics.
Afternoon Plenary Sessions
The second plenary session on Monday had two very interesting presentations that drew plenty of comments and questions. First up was Thomas Steen Rasmussen who presented "censurfridns: Technical and Political Aspects of Uncensored DNS servers". Mark Townsley from Cisco then presented on "Mapping IPv4 Address and Port over IPv6". The presentations were followed by three lighting talks, including some interesting results from RIPE Atlas, an invitation to the ICANN GNSO ISPCP from Alain Bidron and a talk on enabling inter-domain path diversity from Xavier Misseri of TELECOM ParisTech.
Monday's Birds of a Feather (BoF) Sessions
Two BoFs were held on Monday evening. The "Open-Source Roundtable (Quagga and Bird)" BoF was a busy interactive session on open-source software in the community. The "RIPEstat Demo – s2e06" BoF was held in parallel. This live demonstration revealed new features and reported on ongoing development. The session was well attended and was a great opportunity for users to share feedback directly with the developers and learn more about RIPEstat.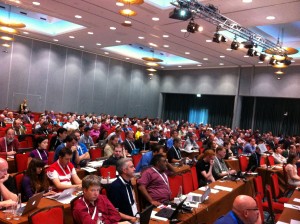 Monday Morning Tutorials
Three tutorials were held on Monday morning before the RIPE Meeting began. The "Scaling MPLS – Seamlessly" tutorial was given by Christian Martin, Juniper Networks and the "Extending the Range of 100Gbit/s Links" tutorial was given by Arien Vijn, AMS-IX. Sandra Brás, RIPE NCC, ran a session for people interested in improving their presentation slides and presentation skills.
All three sessions were well attended.
Monday's Social: Welcome Event
The Welcome Event took place at the Okura Hotel and enabled attendees to meet new colleagues, catch up with old friends, enjoy drinks and snacks, and compare their badge sticker collections.