Daily Meeting Report
Attendees checked in so far: 361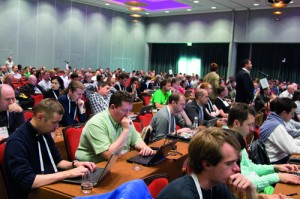 Tuesday Morning Plenary Sessions
Tuesday's full day of plenary sessions began with an IPv6-themed set of talks, starting with an acronym-packed presentation by Paul Ebersman, Infoblox, on "SLAACer or Prisoner of State", invoking several comments. Stefan Plug, AMS-IX, talked about RFC 5549, which deals with advertising IPv4 network layer reachability information with an IPv6 next hop, and Rick van Rein, OpenFortress, presented on "IPv6 for the Masses — with 6bed4".
The day's second session featured presentations on "Google Backbone Monitoring, Localizing Packet Loss in a Large Complex Network" by Jen Linkova, Google, and on the working practice of the NLNOG Ring and its use in network debugging by Job Snijders. The session concluded with lightning talks on the impact of World IPv6 Launch on IPv6 deployment by Lorenzo Colitti, Google, and the current state of DNSSEC validation at a global scale by Geoff Huston, APNIC. Todd Underwood, Google, also gave a talk on the RIPE plenary programme.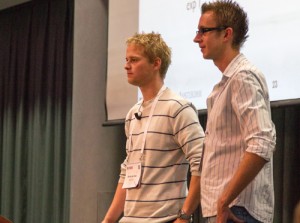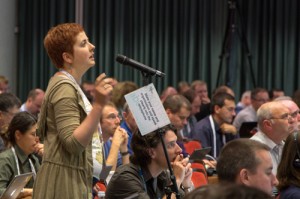 Afternoon Plenary Sessions
The first session after lunch kicked off with a presentation on "RPKI Propagation" from RIPE Meeting stalwart Randy Bush, IIJ, examining the progress made with Internet resource certification. From there, the focus shifted to contributions from some of our youngest community members. David Lebrun of the University of Louvain presented "Correlating Routing Configuration Changes with Forwarding Changes", while Maikel de Boer and Jeffrey Bosma followed with their study on "Discovering Path MTU Black Holes on the Internet Using RIPE Atlas", which inspired some varied discussion at the end of the session. The final session of the plenary was devoted to a panel on Internet governance and the ITU World Conference on International Telecommunications (WCIT). Chaired by Patrik Fältström, co-Chair of the RIPE Cooperation Working Group, the panel included Mike Blanche of Google, Cathy Handley of ARIN, Christine Runnegar of ISOC, and Gordon Lennox, a former official of the European Commission. The session provided an opportunity for attendees to learn more about the WCIT process and the importance of the International Telecommunication Regulations (ITRs) that will be negotiated at the WCIT.
Tuesday's Birds of a Feather (BoF) Sessions
Meeting attendees at the "RIPE Atlas User-Defined Measurements (UDM) and RIPE Atlas Anchors Bash" on Tuesday evening were treated to "extra strong" Atlas beer, RIPE Atlas Anchor tattoos and details about RIPE Atlas Anchors. This interactive session brought RIPE Atlas UDM users and beta-testers together with the developers to discuss developments, exchange ideas and best practices and give feedback. The RIPE NCC Executive Board also held an informal BoF session on Tuesday evening enabling RIPE NCC members and other RIPE 65 attendees to meet the Board members and to discuss the organisation and its services.
Tuesday's Social: AMS-IX Party at the Heineken Experience
Attendees braved the wind and rain and made their way over to the Heineken Experience for a great AMS-IX party filled with drinks (including sponsored cocktails), snacks, dancing…and of course, Heineken.