Attendees checked-in so far: 425
EIX Working Group Sessions
The day's sessions in the main room began with the EIX Working Group. The sessions were well attended and many of the presenters prompted interesting discussion among the audience. Marc Gauw from NL-ix shared his "Overview of the local peering scene" and also presented "The sense of distributed Internet exchanges." Kurtis Lindqvist, netnod, presented 76 slides in 20 minutes (including questions!) with "Analysis of Query SRC and Anycast locations". Mirjam Kuehne, RIPE NCC, shared a glimpse into interesting measurements collected during the European Football Championship and the 2012 Olympics in her presentation "IXP Traffic During Major Sporting Events". Maksym Tulyuk then shared some World IPv6 Launch facts and figures in his presentation "AMS-IX IPv6 Day Before & After". Cara Mascini, AMS-IX, then shared some thought-provoking wisdom on the "AMS-IX collaborative model". After the coffee break, the EIX Working Group session continued with an "IXP Wish List Status Update" from Harald Michl, UniVie/ACOnet/VIX, a "Euro-IX Update" from Bijal Sanghani, Euro-IX, and a "Bird Update" by Ondrej Filip from CZ.nix. Toshinori Ishii, NTT Communications, presented "Content caching/CDN sharing for small ISPs at IXPs", followed by LinkedIn's Zaid Ali presenting the pros and cons of remote peering. The session finished off with a presentation from first-time attendee Puseletso Putsoane from Vodacom Lesotho on "Lesotho Internet Exchange Point" and 30-second IX updates from LINX, NYIIX, STHIX, AMS-IX, CIXP, netnod, NIX.CZ, and TOR-IX.
Database Working Group Session
The Database Working Group met on Wednesday morning, beginning with an update from the RIPE NCC on the current status and future plans for the RIPE Database. It then moved quickly to discussion of new database features including "History View" and GeoLoc data, and an update from Olaf Kolkman, NLnet Labs, on the WEIRDS work being done in the IETF.
DNS Working Group Sessions
The first DNS Working Group session began with software reports by Sara Dickinson, Sinodun Internet Technologies Ltd, on OpenDNSSEC and Shane Kerr, ISC, on DNS Benchmarking Effort. Romeo Zwart, RIPE NCC, presented on the RIPE NCC's DNS activity, k-root operational updates, statistics and lessons learned from the RIPE NCC's recent reverse DNS outage. Many attendees came to the microphones with comments and new ideas for technical improvements. Up next was APNIC's Geoff Huston with "Measuring DNSSEC", which, as expected from Geoff, prompted lively feedback from many in the audience. The session finished with a panel discussion, "Overcoming the 'First Mover Loses' Paradigm for IPv6 DNSSEC Deployment".
The second session started with a presentation from Marek Vavrusa, Knot DNS, about an open-source, authoritative-only DNS server and a remote control utility they built. Olaf Kolkman, NLnet Labs, presented about the IETF WEIRDs Working Group and RESTful WHOIS. Romeo Zwart, RIPE NCC, presented on the future of DNSMON, noting that one of the big changes is that it will become a service available for RIPE NCC members only. Roland Van Rijswijk, SURFnet, presented about fragmentation in EDNS0 and proposed recommendations about handling this. Roland referred to the differences between BIND and Unbound and how Unbound's method was more effective in getting a response faster for the user. The session ended with a panel, moderated by Peter Koch, DNS Working Group co-Chair, discussing DNS amplification attacks. The panel consisted of Olaf Kolkman from NLnet Labs, Paul Vixie from ARIN's Board of Trustees, Andrew Sullivan from Dyn, Inc., and Xander Janse from SURFnet.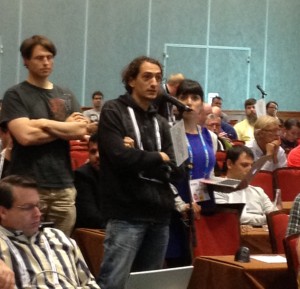 IPv6 Working Group – Session I
The first IPv6 session began with Liviu Pislaru from RCS & RDS Romania who presented on their project to offer dual-stack IPv6 support to more than 1 million residential customers. The response from the room was very positive, with Liviu being thanked for showing the world that this can be done. The next presentation was from OTE's Yannis Nikolopoulos, outlining the different issues that they faced during the IPv6 World Launch, the steps they took to solve them and what they learned from the experiences. Anastasios Chatzithomaoglou from Forthnet was up next, talking about the deployment of IPv6 dual-stack, also including the latest tests on DS-Lite and radius-based semi-dynamic IPv6 assignment. Marco Hogewoning from the RIPE NCC gave an update on the IPv6 CPE Survey 2012. They went back to the original idea to ask all vendors where they are now with IPv6 support in their different CPEs and displayed the results on a new and improved website. Finally, Emile Aben from the RIPE NCC gave a report on IPv6 RIPEness and measuring IPv6 in a production environment from different Local Internet Registries (LIRs).
RIPE NCC Services Working Group
The RIPE NCC Services Working Group included updates from the Arbiters Panel and the RIPE NCC. There was discussion about the RIPE NCC's member-only services and the extent to which certain services should be offered only to RIPE NCC members. There was also discussion about the status of PI End Users and legacy address space holders and whether they should become RIPE NCC members. The RIPE NCC also gave presentations on the IP Analyser Tool and the final distribution of IPv4 address space. Niall O'Reilly, University College Dublin, gave a detailed presentation on "Proposed Policy for RIPE NCC Services to Legacy Internet Resource Holders ". Nick Hilliard, INEX, gave a presentation on sponsoring LIR data.
NL-ix Late Summer Drinks 2012
Attendees flocked to Amsterdam's urban beach "Strand Zuid" for a festive evening of drinks following a busy day at RIPE 65. Thanks to NL-ix for hosting a fun social!